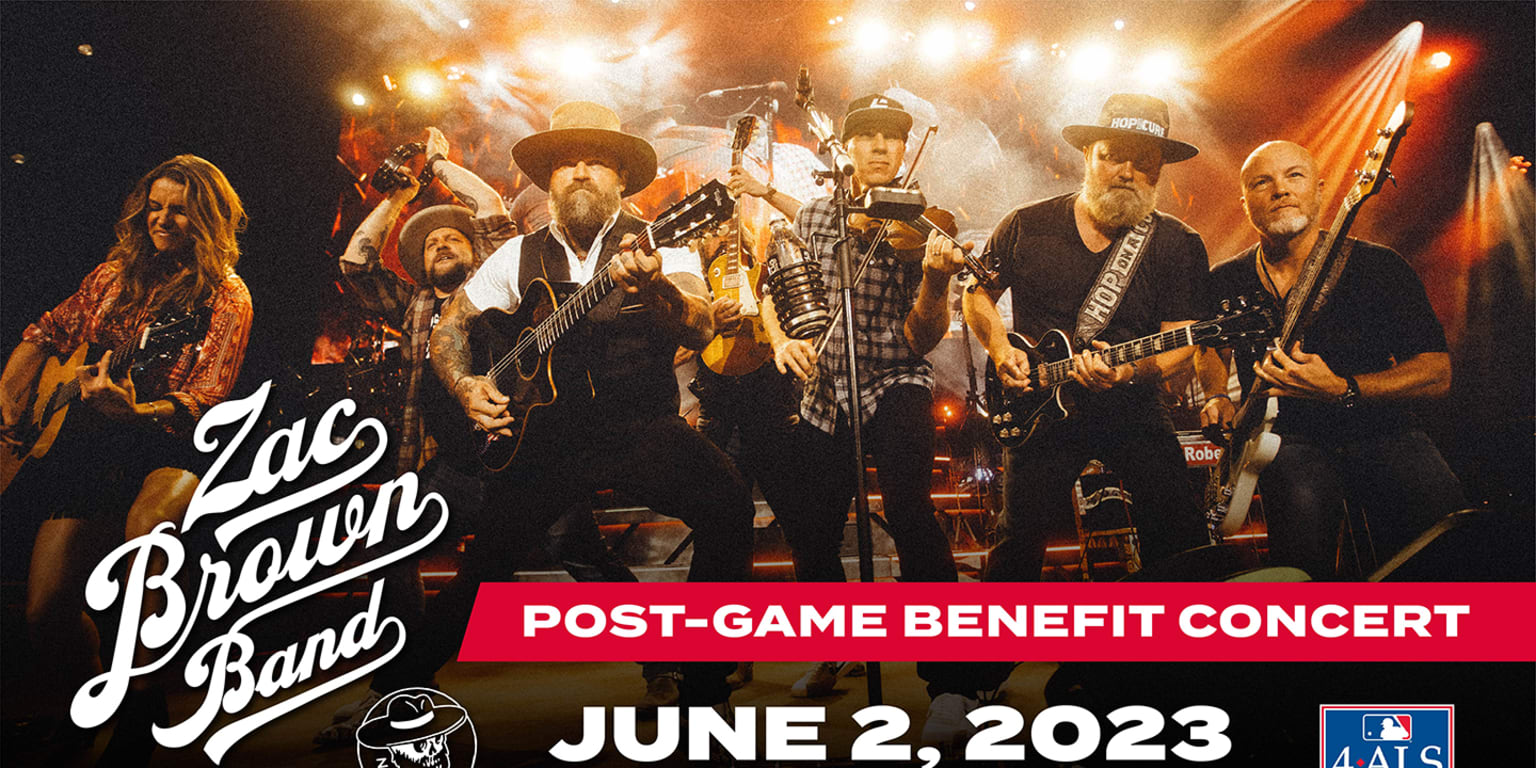 Zac Brown Band 4-ALS Postgame Benefit Concert
Cincinnati Reds announce Zac Brown Band will perform a post-game concert to benefit the Hop On A Cure Foundation at Great American Ball Park on Friday, June 2, 2023.
The concert, which will be the band's only Cincinnati-area appearance next summer, will follow the Reds vs. Milwaukee Brewers game (start time 5:10 p.m.) and will feature a full set from the Zac Brown Band. All fans with a ticket to the game can stay and enjoy the post-game concert that night.
In conjunction with Major League Baseball's Lou Gehrig Day celebrated annually on June 2, a portion of the proceeds from each game ticket sold will benefit the Hop On A Cure Foundation to fight amyotrophic lateral sclerosis (ALS), otherwise known as "Lou Gehrig's disease".
The foundation was established by band member John Driskell Hopkins after he was diagnosed with ALS and supports research towards a cure for ALS while raising awareness and giving hope to those battling the disease.
"The Reds are honored to host the Zac Brown Band on Lou Gehrig MLB Day in 2023," Reds President and COO Phil Castellini said. "The Zac Brown Band's passionate support of their bandmate Hop is inspiring, and our hope is to lift the spirits of everyone affected by ALS while supporting the Hop On A Cure Foundation. We are thrilled with their offer a warm welcome to the Reds Country as they fill the Great American Ball Park with music and hope after our game on June 2.
Hopkins and fellow band members Zac Brown, Jimmy De Martini and Danny De Los Reyes are set to appear Dec. 3 at this year's Bally Sports Ohio Redsfest presented by PNC Bank. Their appearance will include a Q&A session, followed by a special live performance by De Martini, De Los Reyes and Hopkins on the main stage.
"My family and I, along with everyone in the band, appreciate the support of the Cincinnati Reds for the Hop On A Cure Foundation and I'm thrilled to be able to attend Redsfest in Cincinnati," Hopkins said.
Zac Brown Band Pit Field Package
Fans who want to guarantee a close-up view of the Zac Brown Band concert from the field can purchase a special Zac Brown Band Pit Field package starting Monday, November 21 at 9 a.m. ET.
• One (1) Field Box ticket for the Reds vs Brewers game on June 2 (5:10 p.m.) and one (1) Field Box ticket for the Reds vs Brewers game on June 3
• Pit/Field Pass for the Zac Brown Band post-game concert on June 2
For each package sold, $20 will be donated to the Hop On A Cure Foundation. Visit www.reds.com/ZacBrownBand for more information.
Tickets for the June 2 game are available now as part of the Reds Pick-6 plan. For more information on the Pick-6 plan, visit www.reds.com/Pick6.
About the Hop On A Cure Foundation
John Driskell Hopkins (Hop), founding and active member of the Zac Brown Band, was diagnosed with ALS in December 2021 and immediately sprang into action, establishing Hop On A Cure Foundation, Inc. Hop On A Cure is committed to support research to prevent, reverse and cure ALS while raising awareness, building a compassionate community and unleashing the healing power of hope.
Established in 2021, Lou Gehrig Day is celebrated annually on June 2 throughout Major League Baseball to honor the Hall of Fame's legacy and raise awareness for ALS. This league-wide initiative includes pre-game ceremonies to honor groups and individuals who have led the pursuit of ALS research in their communities, fundraising programs for charities ALS and opportunities through field staff, TV and radio broadcasts and social media to support the fight against ALS. ALS.
Zac Brown Band is a multi-platinum, GRAMMY Award-winning Southern rock band led by frontman Zac Brown. Throughout their career spanning more than a decade, the Zac Brown Band had six consecutive albums reaching the top 10 of the Billboard 200 and five consecutive albums debuting at No. 1 on Billboard's country album chart. To date, the group has won three GRAMMY Awards, including Best New Artist in 2010, sold over 30 million singles, 9 million albums, amassed over 10 billion catalog streams, achieved 16 radio singles n No. 1 and is the second act to top both. Country and Active Rock formats. Zac Brown Band has headlined 8 North American tours and currently holds the record for the most consecutive sold-out shows at the iconic Fenway Park. Symbol of their enormous success at the ballpark, in July 2022, the Zac Brown Band was inducted into the Fenway Music Hall of Fame, joining music icons Paul McCartney and Billy Joel. Since its inception, the Zac Brown Band has established a reputation with critics and fans as one of the most dynamic live artists, marked by a strong musicality that defies genre boundaries.