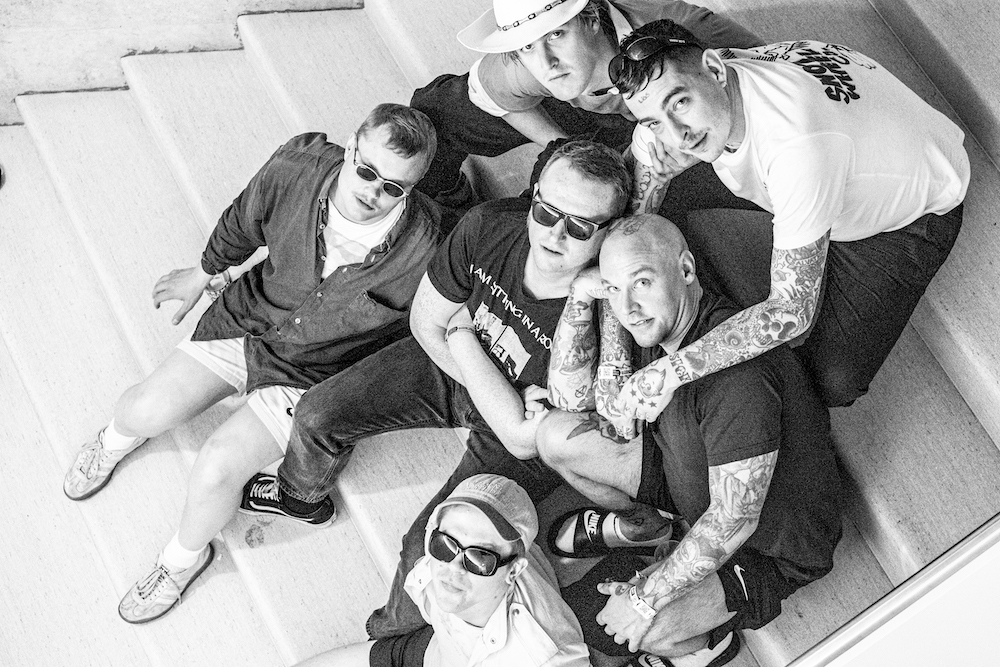 Welcome to the Underworld: Viagra Boys | Interview
It's 5 p.m. on the last scorching afternoon of Primavera Sound and Sebastian Murphy, cloudy-eyed and clutching a large espresso like an emergency raft, is working his way through "the worst hangover of his life". After spending last night (and, you think, a decent part of this morning) partying at a friend's tattoo shop, we nevertheless caught the Viagra Boys frontman at one of the most happy about his day so far; a previous interview, we are told, saw him spend the latter part of the conversation face down, head on the table, answering questions from somewhere within the abyss.
The fact that the gold-toothed leader is even more charismatic, engaging and relatable than 98% of those polled speaks both to Sebastian's naturally dry and wicked way of seeing the world, and to the fact that – despite the hyperbole today – he's almost certainly had much, much worse experiences pulling himself through the quagmire the next morning.
Founded in Stockholm well over a decade ago from a place of societal antagonism steeped in nihilism and amphetamine use, Viagra Boys' ethos has always been to kick energetic and without compromise against pitting. These days, the singer might describe his mental health as "pretty good", but he remembers the time until 2018's debut LP "Street Worms", ranked by a steadfast refusal to toe any sort of line. party, with the sole intention of a form of maniacal creative oblivion. Yet despite the rising steps they've found themselves on until 2021's follow-up 'Welfare Jazz' and this month's deliciously pissing 'Cave World', there's a visible thread of acting on everything the sextet.
"I think I just wanted to be relentless in art, and I also had this hatred for music, so I wanted to do anti-music. I wanted it to be as simple as possible and to say 'fuck you'. Everything I create, everything, I just wanted it to represent these two words: 'Fuck off'", he begins about the early years of the group. "I had a very clear vision of, 'I'm going to be high for the rest of my life and I'm going to change this fucking world.' I had this incredibly clear fucking vision that I was going to die for, but slowly some thing happened and I thought, 'Oh fuck, maybe I don't want to die anymore, maybe I want to do this for a little longer…'"
In relative terms, today's Sebastian is a relatively milder proposition, but, as he puts it, "he'll always be there." "It's part of my soul," he shrugs, "this disdain for authority and for what people expect of you in society. I hate it all. Now, almost certainly more in line with doctor's orders, the leader has begun to channel those impulses and angers into a healthier, but no less powerful space.
Enter "Cave World": a primitive, surreal, grotesque and often hilarious third album that presents the world with a distorted fairground mirror and revels in the repulsive results.