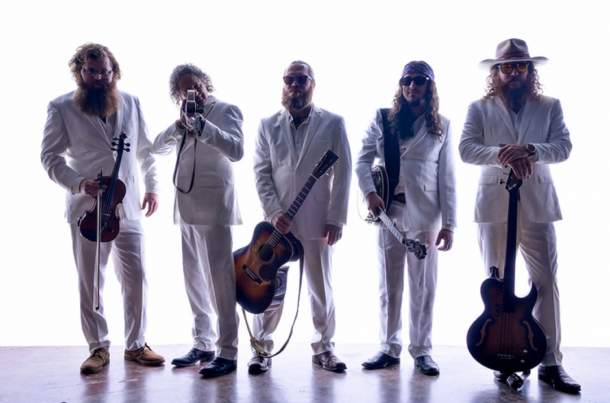 Songs From the Road Band releases "Suspicious Minds"
Known for his energetic performances, tight three-part harmonies and masterful improvisations, Road Band Songs has built up a dedicated following through numerous concerts and festivals each year. Smoky Mountain News calls them a "band of melodic pirates, roaring down the highways and back roads of southern Appalachia, looking for a stage to play…" Now the hardworking Asheville-based band has captured a bit of that energy on stage with their latest single – a long-time crowd favourite.
"We added 'Suspicious Minds' to the live set several years ago," says Charles R Humphrey III, the band's bassist. "It's a classic song that we reworked in bluegrass style."
Originally written by Mark James in 1968, "Suspicious Minds" was popularized by Elvis Presley. Humphrey explains that a line can be drawn between song and bluegrass: "Elvis recorded Bill Monroe's 'Blue Moon of Kentucky' in the 1950s, arranging it in a faster pop style. We wanted to take a classic Elvis tune and arrange it in bluegrass style. For us, it makes sense – and it's really fun to play!"
The arrangement is a natural fit for Songs From the Road Band, showcasing the band's instrumental chops and allowing them to stretch vocally and instrumentally. Mandolinist Mark Schimick – an award-winning mandolin player – sings the lead role in "Suspicious Minds." Founding member and guitarist Sam Wharton and two-time National Violin Champion James Schlender provide harmony vocals. "Suspicious Minds" also features guest performances from Kyle Tuttle (of Molly Tuttle and Golden Highway) on banjo and Tommy Maher (of Fireside Collective) on dobro.
Since the song became a staple at Songs From the Road Band concerts, the band recently decided the time was right to record it. They ran the Forty-one-Fifteen recording studio in Nashville and brought in Charlie Chamberlain to co-produce and engineer the track.
"We had as much fun recording it as playing it live," concludes Humphrey, "and we hope you have as much fun listening to it!"
"Suspicious Minds" drops everywhere Friday, June 3. Listeners can search for it on their streaming service of choice, and interested radio programmers can download the song from AirPlay Direct.