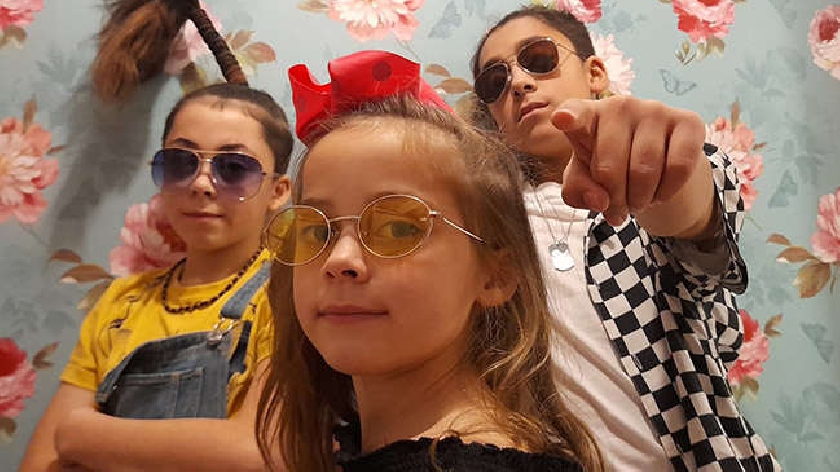 Queen left 'touched' after young band from Milton Keynes sent songs to Buckingham Palace – MKFM 106.3FM
The Stencil Pencils, a young band from Milton Keynes, received a response from The Queen after sharing their music.
The Stencil Pencils, from Milton Keynes, have been dubbed the UK's youngest group of Aspergers.
The group is made up of Indiana Harris-Herbert, six, her brother Johnson, 11, and her brother Kale, 10, who has Asperger's Syndrome.
Kale, 10, with the help of his father, reached out to Her Majesty The Queen to share some songs he and his siblings had composed over the past few years.
To the surprise of the young groups, the trio received a letter from Buckingham Palace.
In the letter, Buckingham Palace wrote that the Queen was "touched" that the siblings thought of sharing their music with her.
The letter reads as follows:
'Dear Kale,
The Queen has asked me to thank you for your letter, written with a little help from your father, in which you told Her Majesty about the group you formed with your sister, Indiana and your brother, Johnson, called The Stencil Pencils. The Queen was touched that you wanted to let her know about the songs you wrote.
After forming during the first national lockdown, The Stencil Pencils have since produced several songs.
The band's first performance was for Neighbors at VE's celebrations. This led to appearances on BBC Three Counties Radio's breakfast show and ITV's 'The Scrambled Show'.
Most recently the band played at Stadium MK and helped MKFM turn on the Christmas lights in central Milton Keynes.
READ MORE: Milton Keynes' Stencil Pencils Rap Asperger's Syndrome