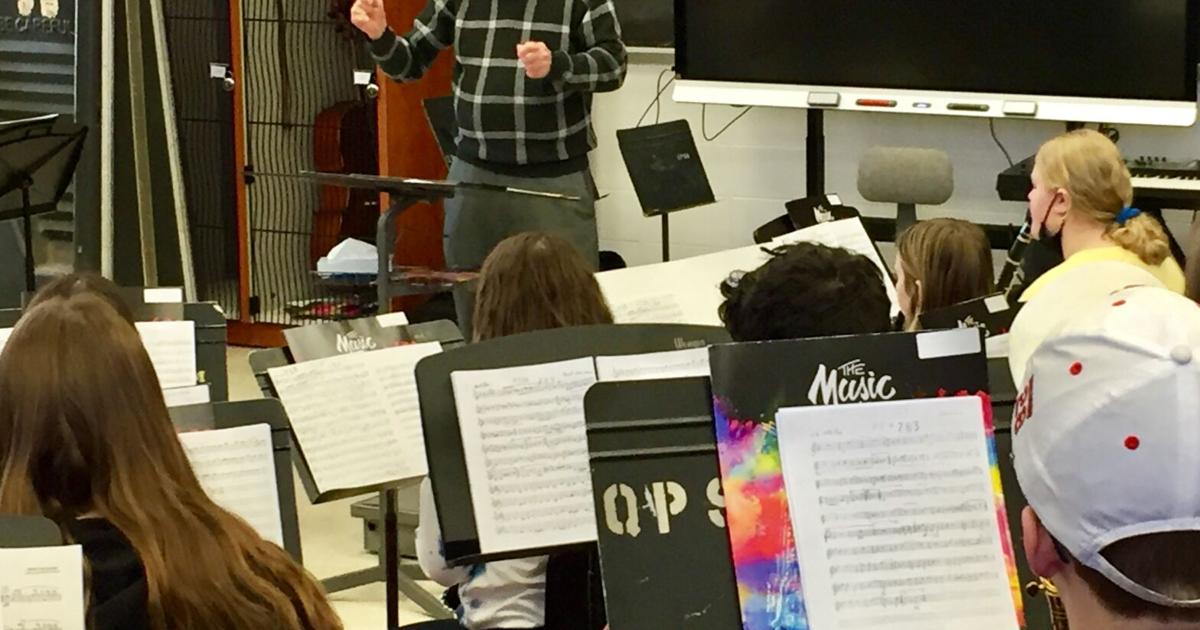 QHS Group Celebrates Past and Future with Anniversary Concert | The music
QUINCY — Being part of a world premiere for a play commissioned by the Quincy High School band didn't seem real, at first, to Caleb Schinderling.
"Just the gravity of the size, to have a play written for us that no one has played before and now every high school will have the opportunity to play, it seems incredible," said Schinderling, a QHS senior who works with Allen. Oakley. as Band Chairman.
Working this week on "Centum Annorum" section by section with composer Todd Stalter made the idea much more believable for the band members.
The Zoom session with Stalter was another in a series of rehearsals – some with former band managers and QHS alumni – linked to preparations for the band's upcoming 100th concert.
"We celebrate our past. We had Bob Havens, Les Fonza, some of the old directors and students come back and work with us," Oakley said. "By making the past interact with the present, we are actually celebrating our future program and all the success that we should have."
Havens' 'PEM' march will be on the concert program, as will the 50th anniversary concert, and he joined the students this week to talk about his career and the piece named after one of his musical inspirations, band founder Paul E. Morrisson.
Morrison, who founded the QHS group in 1920 and taught for 35 years, worked after school with students like Havens interested in music composition. With Morrison's help, Havens said he wrote a march in his second year and then wrote "PEM" on his own in his freshman year.
"It's a real pleasure to hear him play again," said Havens, a 1948 QHS graduate who played trombone for 22 years as part of the Lawrence Welk Television Orchestra and will conduct the piece at the anniversary concert. "Sounds pretty good – like it should be played."
Next, Havens offered performance advice.
"One thing I always notice is that it seems easy to get a little slower as you go. You start at a certain pace, and that's something you have to focus on as you play," he said. "It seems like a natural tendency to play softer and slower, but it really isn't. The tempo continues to advance. »
Havens also told students to listen to a wide variety of music for inspiration.
"When I was quite young, I had a big stack of records at home. I listened to one after another, all kinds of music," he said. jazz music My second inspiration was what I called symphonic music.
Group director Matt Gabriel, who counts Havens among his friends and mentors, hopes students will also find inspiration in the group's rich past.
"What is so special about our program is that we have had excellent directors and teachers who have inspired many generations of musicians to share their gift of music, eventually adopting our motto as a music department. of a richer, fuller life through music," said Gabriel.
"I encourage all of you to keep playing when you're in college. You don't have to major (in music), just keep playing your instrument to play in a community band, play in church "Music opens doors. It gives you opportunities you'll never have anywhere else," Stalter said.
Connecting students with musicians like Havens and Stalter gives them "a deeper sense of what the music they play in concert means, from start to finish, how the music comes from someone's thoughts, the 'hears in his own mind, on the page, and then on the stage,' said Quincy Public Schools music director Todd Pettit.
"Seizing the educational opportunity of having a commissioned piece to mark the event, and then having a virtual workshop with that composer to hopefully inspire students who might make this their life's pursuit, can convey the sense of pride not only from the music department but also from the high school, the school district and the community.
Gabriel said the department wanted to commission a piece from an Illinois composer to commemorate the band's centennial and approached Stalter, the band's principal at Eureka High School. "We've played his music before as a department and really enjoyed his compositions," Gabriel said. "He took the time to research our program, learn about our program, and ultimately write us a wonderful composition. I hope it will be published work for other bands across the country.
Meeting students, Stalter worked on the piece, sharing stylistic advice ranging from lengthening a crescendo at the start of the piece to creating space between notes at another point.
"It gives more clarity. The actual space where you don't hear sound defines the sound you hear," Stalter said.
In another section, he emphasized the sustained, lush sound.
"If the notes start to drop in intensity, we lose that sense of grandeur in the music," he said. "It's a 100th anniversary. It's a monumental and glorious occasion to celebrate. You want to portray, through music, that you love your school, love your city, that they deserve to be honored and celebrated. C is what we are doing here.
But Stalter reminded the students that it's ultimately up to them to perform the piece.
"The indications on the music are suggestions. I have an overall idea in my head, but you are the ones who bring it to life," he said. "It's cool to hear you play. Keep doing what you're doing, you're on the right track.