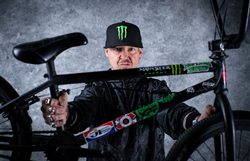 Monster Energy's UNLEASHED Podcast Hosts BMX Legend Rick Thorne
"I was the first BMX rider to be tattooed, to wear black, to have that look." -Rick Thorne

CORONA, CA (PRWEB)
May 30, 2022
Make way for a certified punk rock icon! Monster Energy is proud to welcome the BMX pioneer and punk rock legend Rick Thorne on episode 32 of the sports and pop culture podcast UNLEASHED with The Goofy and Danny.
Airing today on Monster Energy's social media channels, this latest hour-long episode features the lifestyle icon also known as "The Biker in Black." Recorded at Monster Energy headquarters in Corona, California, the podcast discusses the unique career of the 52-year-old man from Kansas City, Missouri, who saw the evolution of freestyle BMX as one of its pioneers and icons of style.
"I was the first BMX rider to be tattooed, to wear black, to have that look. I wanted to create my own nickname and my own logo and my own image which I have built up over the years. The tattoos are all reminders of my life, my story and who I am. I wanted people to know who I was. I want people to remember what I do because I want to leave a positive impact said Thorne on episode 32 of UNLEASHED.
Fans can now listen to Episode 32 of UNLEASHED featuring Thorne and his "Stay Rad" philosophy. Released today, the new podcast is streaming across all major platforms, including Spotify, itunes, and Youtube.
Rick Thorne needs no introduction in BMX circles. Still riding hard at the age of 52, Thorne pushed the evolution of BMX on the elite Hoffmann Bikes team in the 1990s. At a time when BMX professionals were impeccable athletes wearing jerseys of racing, Thorne earned the nickname "The Biker in Black" by injecting a heavy dose of punk rock attitude and tattoo style. The multi-talent has appeared in hit films like "Mall Cop" and "XXX", hosted action sports television programs and today tours as a musician and stand-up comedian.
Expect a no-holds-barred conversation with the two podcast hosts, Australian action sports personality Luke "The Goofy" Trembath and professional snowboarder Danny Cass in episode 32 of UNLEASHED. Listen carefully here.
Growing up in the Midwest, Thorne discovered BMX at age 12 in 1982, when the sport was still in its infancy. The local scene: Non-existent. But Thorne's spirit to shake things up: Unlimited from day one. "It was just being on the street with your friends. Doing wheelies, jumping off curbs," Thorne said. "We started racing, but then we were doing tricks in the parking lot. I wanted to be a freestyler because I didn't have that racing mentality…I wanted to express myself more.
"I give racing all the respect in the world, but it wasn't my thing," Thorne said. "Freestyle was new, and it wasn't developed yet. I just wanted to be part of something new and I liked doing tricks more. As freestyle BMX evolved, the teenager found his penchant for vertical halfpipe tricks. Additionally, he quickly developed the consistency to unleash tricks like 540s, backflips and can-cans at will. It earned him sponsorship from top bike brands and his first full-page photo in a BMX magazine in 1991. "I loved competing because it pushes me to learn tricks," Thorne said in the episode, while emphasizing that his approach to BMX has always been holistic, including competitions as well as trick progression and video games.
Aside from his vast bag of tricks, what set Thorne apart early on was his punk-rock-inspired looks and tattoos that earned him the reputation of "The Biker in Black." "I've always loved black. I always thought it looked cool. Have you ever seen Elvis Presley in the 1968 comeback special? Black leather suit! I thought he looked cool and tough. Eventually, during a long period of listening to Johnny Cash, Thorne realized, "He's the man in black. I'm the biker in black!"
Nonetheless, Thorne backed up flair and attitude with skill on his bike, touring the world doing demos alongside skateboarding icon Tony Hawk in the early 1990s and eventually turning pro for Hoffmann Bikes, l elite team founded by legend Matt Hofmann. Thorne was still at the bus tables to make ends meet when the mid-1990s brought new popularity to action sports, including televised events and concert series. "It was an exciting time with all these things going on like the Warped Tour and the X Games," said Thorne, who became able to make a living riding BMX as more sponsors and sponsors grew. money came into sport.
As a cultural ambassador, Thorne hosted Tony Hawk's Boom Boom Huck Jam action sports tour in the early 2000s and worked as a television host for ESPN and Fuel TV. Today, the born entertainer hosts his own comedy show, Stay Rad. He can also be found touring with his punk rock band, Good Guys in Black. "I felt like I needed a voice beyond the bike and to be able to express myself. It was always a dream to learn how to make music and how to play music. been a rad road. Music is like horseback riding, you always keep developing your style," said Thorne who has shared shows with legends such as Suicidal Tendencies and Pennywise.
Throughout his various creative endeavours, Thorne names BMX as the central driving force to drive him forward: "You have to find that place in your life where you can get away from it all, clear your mind and be creative. . I have ideas for stuff and songs and whatever, rolling down the street.
Ready for more? For an interview guest who's never afraid to tell it like he sees it, tune in to the episode today! Visit the landing page to access Episode 32 of UNLEASHED featuring the Goofy and Danny podcast featuring the Monster Energy BMX legend Rick Thorne.
Episodes of UNLEASHED are filmed on a special set inside Studio M at Monster Energy's headquarters in Corona, CA. The podcast is hosted by the dynamic duo of Australian action sports personalities Luke "The Goofy" Trembath and professional snowboarder Danny Cass. Known for their deep roots in action sports culture, the two starred in the beloved cult TV show "The Adventures of Danny and the Goofy" on Fuel TV for five action-packed seasons in the early 1990s. 2010. Both hosts have walked the walk as professional snowboarders and have the interview skills to find common ground with guests from all walks of life – sports and pop culture. Always watch out for new episodes that come out every two weeks on Mondays.
Upload photos for editorial use.
The UNLEASHED with The Dingo and Danny podcast is here to celebrate the personalities behind the Monster Energy lifestyle. With each episode dedicated to a unique guest or topic, listeners learn to live on the edge and advance the state of the art in the world of high-energy sports as well as music, games and entertainment. pop culture of individuals at the top of their game. Game. More than a drink, Monster Energy is a way of life lived by athletes, sportspeople, bands, believers and fans – and the podcast is an extension of that unique DNA.
To know more Rick Thorne and Monster Energy BMX Team Tour http://www.monsterenergy.com. Also follow Monster Energy on Youtube, Facebook, instagram, Twitter and ICT Tac for exclusive content and athlete-only features.
###
About Monster Energy

Based in Corona, California, Monster Energy is the leading distributor of energy drinks and alternative beverages. Refusing to recognize the traditional, Monster Energy supports the scene and the sport. Whether it's motocross, off-road, NASCAR, MMA, BMX, surfing, snowboarding, skiing, skateboarding or the rock and roll lifestyle, Monster Energy is a brand that believes in the authenticity and at the heart of what its sports, athletes and musicians represent. More than a drink, it's the way of life lived by athletes, sportspeople, bands, believers and fans. Learn more about Monster Energy, including all of its beverages, at http://www.monsterenergy.com.