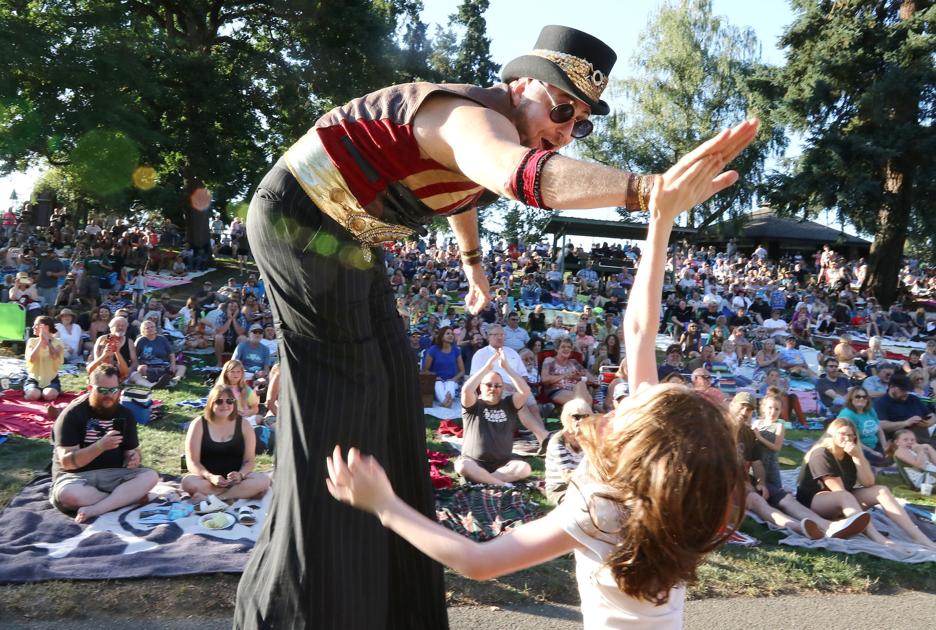 MarchFourth enthusiastically opens Half Shell | New
The sounds of horns, drums and guitars were amplified at Stewart Park on Tuesday with the highly anticipated return of the Music on the Half Shell summer concert series.
Portland-based band MarchFourth opened the concert series with great enthusiasm to a crowd ready to enjoy live music for the first time in nearly two years.
The audience cheered as the 20-piece group took to the stage in mismatched outfits – some with their iconic marching band attire while one member of the band wore a hat that looked like a squid.
"It's the biggest cheer we've heard in a year and a half," a member of the group told the crowd. "I forgot what it looked like."
The group then performed music reminiscent of New Orleans jazz as dancers and acrobats on stage added to the entertainment.
In the designated dance area to the right of the stage, audience members of all ages engaged in a variety of moves – from belly dancing, flossing, to disco – brought their best. Even the MarchFourth wader joined the crowd with some balanced moves.
William Leybold, who came from Ashland for the show, joined the group of dancers. The right heavy tempo was his favorite part of the performance, he said.
Away from the crowds, Denise and Chuck Allured set up folding chairs in the shade of a tree with their therapy dog ​​in training, Lily. This is Chuck Allured's first Half Shell event with his wife who has attended it before. She is thankful that the music is back and he can see MarchFourth's performance.
"I have never seen a performance with so many people," said Denise Allured. "It's a very different genre."
For many viewers, the return of Half Shell was exciting and a return to normalcy.
Craig Kinney was at the park with other members of the Wellspring Bible Fellowship.
"We are grateful to the city for allowing him to return," said Kinney, who happens to be the chief medical investigator of legal deaths for Douglas County.
The Douglas County tiger team stationed under the pavilion overlooking the stage in the hope that those who need to be vaccinated will show up. Mike Hansen, team leader for Team Tiger, has strived to give people the option of getting vaccinated with the pop-up vaccination clinics.
"It's not a cost other than your time," Hansen said.
Anyone who received the vaccine before 8 p.m. during the event received a "golden ticket" which served as a free voucher for one of the food vendors at the event.
The Half Shell summer concert series will take place every Tuesday through August 10. The Half Shell summer concert series continues on July 13 with a performance by Leroy Bell and his only friends.
Madison Temmel is Charles Snowden's intern at The News-Review. She can be reached at [email protected] and at 541-957-4217.