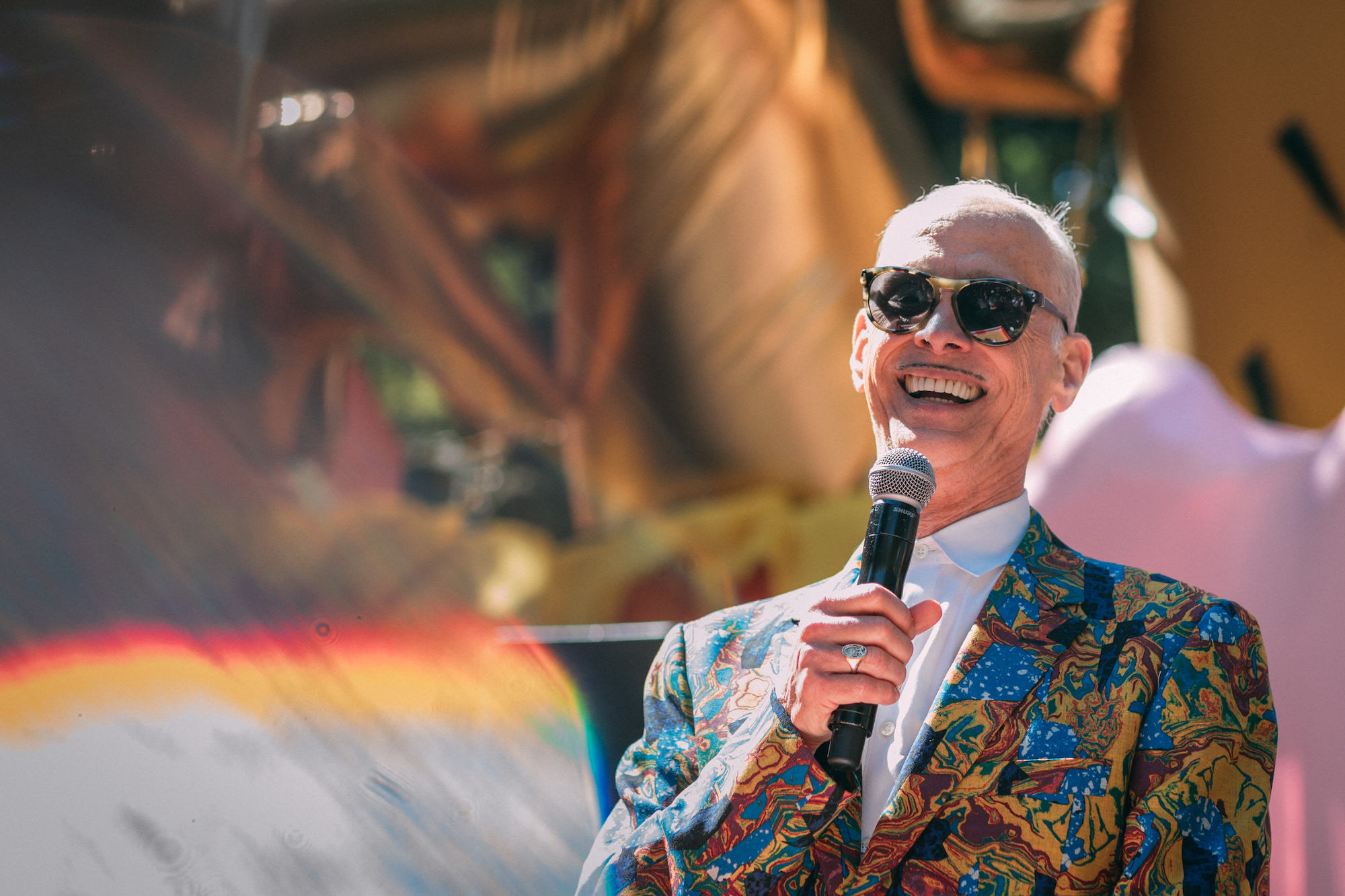 'I've always been a huge fan of punk rock': John Waters is ready for the Meltdown
Animation of the annual punk festival Mosswood Merger (formerly Burger Boogaloo) was a dream come true for legendary filmmaker John Waters.
"I've always been a big fan of punk rock, so it seemed like the perfect kind of marriage," says the director.
It was also a fantastic collaboration for the festival's founders and East Oakland couple Marc Ribak and Amy Carver, who bonded over a shared affinity for the filmmaker's iconic films like multiple maniacs (1970), Desperate life (1977), and hair spray (1988). But it soon became a reality.
The day before the 2014 Burger Boogaloo, headlined by Hall of Famer Ronnie Spector, Ribak performed his annual ritual to give free rein to their creativity before reserving the programming for the following year. He watched The Wizard of Oz (the sumptuous inspiration of DIY punk-rock Desperate lifeaccording to the promoter) muted while playing Pink Floyd The Dark Side of the Moon album.
Later that night, he had a "really weird dream" inspired by the classic Judy Garland movie where he was caught in a tornado in the middle of a Kansas cornfield full of panicked people – until Waters arrives on a flatbed wagon to make announcements to the crowd.
Ribak pitched the idea of ​​Waters as host, and director (a fan of early rock, garage rock revival and punk bands that Ribak delivers regularly, like Iggy Pop, Devo, The Mummies, The Spits, X, buzzcocks and The Jesus and Mary Channel) quickly agreed. In 2015, Waters made his emcee debut and has been on the show ever since.
This year's Mosswood Meltdown (taking place on Sat/1 and Sun/2) will be headlined by Kim Gordon of Sonic Youth and riot group Bikini Kill and will feature local notables like Shanon Shaw, Brontez Purnell and thought division.
The evening before, Ribak and Carver will welcome music lovers for the grand reopening of the Stork Club (renamed You Stork Club).
Co-owned by Ribak, Carver, Billy Agan and Matt Patane of Eli's Mile High Cluband Tony Bedard of the East Bay Promo Group talent gap, the historic dive bar and rock venue has been rebooted with retro 70s decor and an updated bar, cocktail menu, outdoor space and sound system. What it retained was the DIY-trash spirit of its Oakland predecessor.
Waters will appear at the party alongside Shannon Shaw and DJ Chris Owen (Budget Rock).
I spoke to the "Pope of Trash" filmmaker, who lives part-time in San Francisco, about Mosswood Meltdown, maintaining a punk-rock spirit, and whether another movie is on the horizon.
48 HILLS How did you get involved with Mosswood Meltdown?
JOHN WATERS Well I think my same agent who manages A John Waters Christmas got me the gig. Then when I met Marc and Amy, we really bonded and became great friends. I was at their wedding and all, so now I've done it so many years in a row that I feel like I'm coming home to a crazy high school reunion.
48 HILLS How are you as an animator?
JOHN WATERS Well, I hope I'm satirizing the punk world and embracing it at the same time. Like everything I do, I make fun of everything I love. Punk rockers are the perfect audience because they are angry and have a good sense of humor about themselves and love each other. So that's my kind of game.
48 HILLS What do you think this year's program including Bikini Kill and Kim Gordon?
JOHN WATERS They are awesome. But we also have Shannon every year, a big figurehead on the Oakland scene, and Seth from Hunx and His Punx is an old friend of mine. I remember Pansy Division, but haven't seen them in years. So it's exciting every year. I met The Jesus and Mary Chain and The Damned. I knew Iggy Pop because he was in my movie, crybaby. So it's just my kind of world and my kind of people.
48 HILLS Are you excited for Thee Stork Club opening night?
JOHN WATERS I'm just excited to go to a good party, and what a great time to open it right away – the night before Mosswood. It will be the creme de la creme of Bay Area punk society.
48 HILLS In other news, you just posted Liarmouth: a sentimental romance: a novel.
JOHN WATERS Yes. It's only been out for a month and I've been around the world with it. So it's going very well. It really is a punk book. Sure, you could say punk rockers would love Marsha Sprinkle and the crowd she hangs out with.
48 HILLS How did you write your first novel?
JOHN WATERS Even though all the movies are sort of fiction, I considered them stories. But this is my first novel, the first where you actually write down the thoughts of each character. So it was new, but it was like writing anything. Just go out there and do it every day. There's no shortcut to writing a movie or a book or anything. You can think about it, but then you have to keep writing draft after draft after draft, which is maybe the opposite of punk rock because a lot of the best punk rock bands were just primitive. So it's a different world, but it's the same end result.
48 HILLS How is this novel the next step in your artistic development?
JOHN WATERS I tried to do something that I hadn't done before. The same way I hitchhiked across America for a book. The same way I took LSD again with Mink Stole at 70. And we just did the Calvin Klein campaign. See, it paid off.
At the same time, I think it's the next step to try something that I've never done, but it's as crazy as Pink flamingos. So I think I'm like I was in the beginning, although a lot older now, but at the same time, I'm having just as much fun.
48 HILLS You've done so many different things throughout your career: directing, acting, writing, photography, animating and even three modeling campaigns. Is there anything you still want to try?
JOHN WATERS Well, I don't think I was a poet or a playwright – and that would be it. If I could sing, I would have exploited this already, I promise you.
48 HILLS Speaking of plays, I know you spent time with San Francisco proto punk rock collective, The Coquetteswhen you visited in the early 1970s. What impressed you about them?
JOHN WATERS Well, they actually believed the revolution was coming. I saw drag queens reading Lenin without irony, and it made me laugh because we made fun of hippies. We clashed with them a bit, but they immediately befriended Divine early on because the Cockettes still had a bit of punk in them, even though the punk hadn't come out yet.
48 HILLS How do you maintain a punk rock vibe in 2022, especially when you don't see so many punks in mohawks and spiked jackets anymore?
JOHN WATERS The Mohawks are no longer new and are not going to shock anyone today. The Mohawks—their mothers have them, you know. So I think the youth, the new punks, have found an even crazier and scarier style.
I look forward to seeing the fashions at Mosswood Meltdown every year because there are some great ones. There are punks who are 80 years old there and there are punks who are 10 years old. I love to see how that same spirit and politics essentially boil down to fashion – and it's constantly changing.
48 HILLS What's the next step for you?
JOHN WATERS Well, some of the things I can't talk about – and it's always bad luck to talk about something that's pending. Of course, Mosswood Meltdown, Camp John Waters, and the fall Christmas tour of 20 cities. I will also write another novel.
I already had the germ of the idea, but I never say the germ of an idea, because then it's like an abortion. Even though I'm for abortion, I'm not for the abortion of ideas in books.
And maybe I'll do another movie, so I'm busier than I've ever been in my life.
48 HILLS Your first film since 2004 A dirty shame is very exciting news.
JOHN WATERS Well, we'll say that's not news yet. This is not news. This is secret news. It's a maybe.
Stork Club Grand Reopening Party Fri/1, 9 p.m., Thee Stork Club, Oakland. $18. Tickets and more info here.
Mosswood Merger Sat/2-Sun/3, 12 p.m., Mosswood Park, Oakland. $21 to $249. Tickets and more info here.