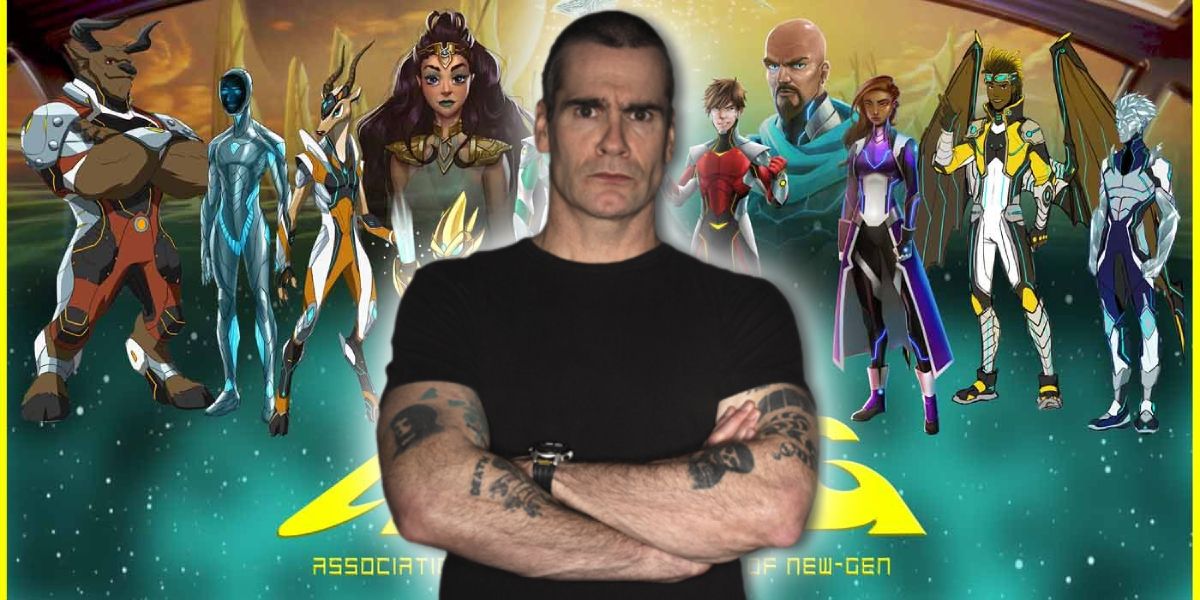 Henry Rollins from Black Flag Boards NEW-GEN Animated Series
Former Black Flag frontman and Legend of Korra alum Henry Rollins joins the cast of the NEW-GEN animated series, based on the Marvel comics.
The upcoming animated series based on the APNG Enterprises comic distributed by Marvel NEW GENERATION found his villain in former Black Flag frontman Henry Rollins.
According to an official press release, Rollins will express NEW GENERATIONthe central antagonist of, Deadalus, a twisted nanotech-scientist who has vowed revenge after being driven out of NEW-GEN's futuristic utopia, where "humans, alien creatures and mechanical life forms peacefully coexist ". The sci-fi series follows twin brothers – voiced by Finn Wolfhard and Nick Wolfhard, respectively – who "live like ordinary teenagers and superheroes enhanced by nanotechnology."
RELATED: Hit-Monkey Trailer Features Marvel's Most Violent Animated Show Yet
A legend in the world of punk rock, Rollins was the fourth and most prolific singer of Black Flag, serving as the band's frontman from 1981 until its initial disbandment in 1986. After the split from Black Flag, Rollins formed Rollins Band , which was active from 1987 to 2006. In 1995, Rollins won the Grammy Award for Best Spoken Word Album for his memoir Get in the van: on the road with Black Flag.
Rollins has lent his award-winning voice to a number of animated productions over the years, possibly most notably that of Nickelodeon. The legend of Korra, voicing the character of Zaheer in 13 episodes of the Avatar: The Last Airbender series of suites. Most recently, Rollins voiced the character of Tri-Klops on Netflix He-Man and the Masters of the Universe series of suites, Masters of the Universe: Revelation. He also worked on episodes of Batman beyond, Teen Titans and Adventure time, among other cartoons. When it comes to live action, Rollins is known for his role as AJ Weston on FX. Sons of anarchy.
RELATED: Mayans MC Renewed For Season 4 At FX
Created by JD Matonti, Chris Matonti and Julia Coppola of APNG Enterprises, the original NEW GENERATION comic book series launched in 2008, printed, distributed and advertised by Marvel Comics. The upcoming animated adaptation is created and produced by Coppola and the Matontis, with JD as director. Brent Friedman serves as writer / showrunner, with Eugene Son as co-writer. Additionally, former Marvel CFO Ken West has joined the fray as an advisor to the board of APNG Enterprises. Besides Rollins and Wolfhards, NEW GENERATION stars the voices of Lena Headey, Luke Wilson and Anya Chalotra.
"We are delighted that Henry Rollins is joining our All-Star Team NEW GENERATION "said JD Matonti." Henry will play our villainous master Deadalus, a brilliant and tormented nanotech-scientist exiled from NEW GENERATION in the Underworld where he is preparing his revenge. "
KEEP READING: Danzig's Iconic Logo Taken From a Forgotten Marvel Comic Book
Source: APNG Entreprises
Dear Whites: Why Coco Became the Show's Most Despicable Villain
About the Author