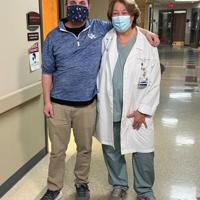 Group manager Paducah Tilghman, 31, makes full recovery after stroke | New
PADUCAH, Ky. — Group director Paducah Tilghman is a walking miracle thanks to the quick actions of doctors and his students.
At just 31, Chris Loe suffered a stroke while teaching in the classroom last fall.
Loe said he didn't know it was a stroke, but he knew something was seriously wrong.
"I started looking at my arm and thinking, 'Whose arm is this?'" Loe recalled. "I remember kids asking me if I was okay, and I couldn't answer them."
He said in his head that he was talking, but his mouth wasn't moving.
"I could barely walk. I walked through the music room and came across a pile of chairs," Loe said.
"He came out of nowhere," said student Brody Newbern, who was in class that day in October. "It was crazy. Every time he got up and fell back in the chair, we knew it was bad."
The students saw the signs, ran for help, and called 911.
Dr. Clare Braun Hashemi treated Loe at Baptist Health Paducah.
"His speech was scrambled and then he progressed and actually couldn't speak. For his age, that was huge," Braun-Hashemi said.
They were able to give him a drug called tPA, essentially dissolving the clot and opening up the blood vessels, halting the stroke.
Loe spent several more days in the hospital and he soon made a full recovery.
"They saved my life. I owe them everything. I'm so grateful," Loe said.
He is grateful to the doctors and his students. His life resumes its rhythm.
"It makes me really proud of our group of people who were there that day," Newbern said.
"I didn't know I had a stroke when I had it, but I knew something was wrong," Loe said. "If you think something is wrong, don't risk not going to the ER. If you think something is wrong, don't wait."
Loe said he has a condition called FOP, which is a hole in his heart. Doctors think that's what may have caused the stroke. He received treatment and doctors said he was no longer at great risk.
May is National Stroke Awareness Month.
According to the American Heart Association and the American Stroke Association, stroke is the fifth leading cause of death and one of the leading causes of disability among adults in the United States.
On average, one person in the United States experiences a stroke every 40 seconds, and nearly 795,000 people experience a new or recurring stroke each year.
Doctors use the acronym BEFAST to help people learn and discover the symptoms of stroke.
• B – Balance: Does the person have a sudden loss of balance?
• E – Eyes: Has the person lost vision in one or both eyes?
• F – Droopy face: is one side of the face drooping or numb? Ask the person to smile.
• A – Arm weakness: Is an arm weak or numb? Ask the person to raise both arms. Does an arm drift down?
• S – Speech Difficulty: Is the speech slurred, unable to speak, or difficult to understand?
• T – It's time to call 911: If the person has any of these symptoms, even if the symptoms go away, call 911 and get them to the hospital immediately.
Other signs of stroke include sudden, severe headaches with no known cause or sudden confusion or difficulty understanding.