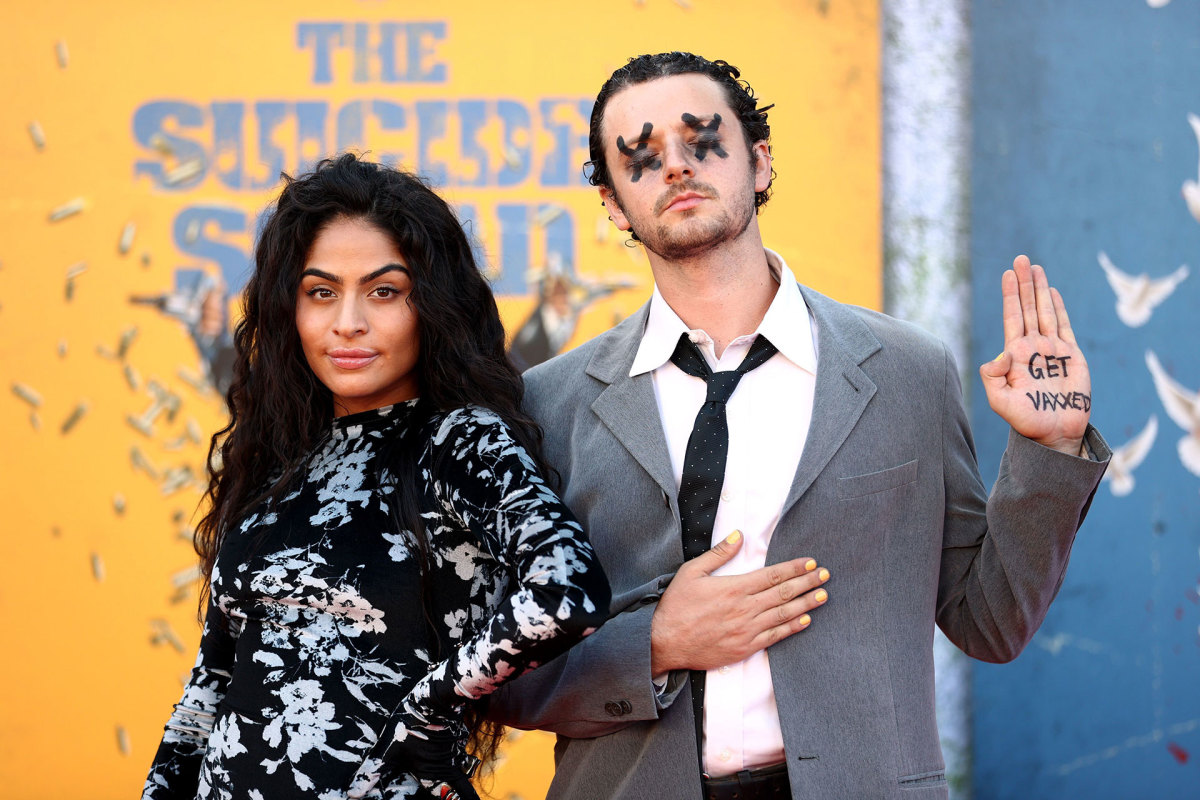 grandson, Jessie Reyez on 'Suicide Squad' & Superhero Team With Drake
With the recent reopening of theaters, moviegoers across the country are ready for an action-packed blockbuster to experience on the big screen. And if you're like Jimmy's Goodfellas– "Jimmy was the kind of guy who supported the bad guys in the movies" –The suicide squad, directed by James Gunn, might be right for you. Released today, the DC film features tough tough super villains with a star lineup including Margot Robbie, Idris Elba, John Cena, Viola Davis and Sylvester Stallone, to name a few.
Not only did Gunn make sure his cast was stacked, but like any good filmmaker, he knew the soundtrack was just as important as the visuals. So he recruited Toronto's grandson and Jessie Reyez to write "Rain", the movie's single. The song sets the perfect melancholy mood to experience the action on the big screen. Jessie and her grandson weren't afraid to get dirty and act as supervillains in the clip, showing off some of their fighting moves.
I met the grandson and Jessie on Zoom ahead of the movie premiere. We talked about their experiences as part of the soundtrack for the film, shooting the music video, preparing for Lollapalooza and their dream team of Canadian superheroes with Drake and Nickelback. Watch the full interview above and read some conversation highlights below.
On the set of the video "Rain":
Reyez: It was fun, it was scary, it felt like the first real big shit I did, I guess since March 2020. So there was a massive influx of emotions and also a lot of pressure because it is a big deal. Suicide Squad, it's James Gunn, that's a big thing. So I was really nervous and it was good to have a grandson on set because he's really good with positive energy. And when that freezing rainstorm hit, boy, did I ever need a dose of positive energy. So that was cool man.
I've been preparing a fight scene like this my whole life, man. Shoot, there was a lot of pent-up anger that I was able to let out. The thing I practiced the most for and the thing that required the most rehearsal for me was definitely dancing. Like, that's what we did. The day before the shoot, we met all the dancers and choreographers, well done Candice, and that's what we repeated. For the fights, it was quick. And I don't know what that says about my aggression, but he said to me, "Do this as you think." And I was like, no problem, OK.
grandson: It was really a whirlwind, not just to come back and have the first big shoot with a full crew and cast for months and months, but to do it on that scale knowing it was going to hit so many people across. it was a very exciting and nerve-racking world. And the greater the opportunity to fail, the more excited I am. I want to spend my whole career doing big swings, being in this shit.
Finding a Canadian director was important. We originally intended to shoot in Toronto, but due to COVID restrictions we were unable to. But definitely between me and Jessie and John Poliquin, the director, we wanted this to be the opportunity to present the next step outside of Canada, while also representing on the world stage. So that was cool.
On Jessie's next album:
Reyez: The truth, I mean, consistency is what I think people can count on me for. And one of those things that I hope is the common thread of my first project, Kid, to what is going to be this next project is the truth. But I hope the word truth is synonymous with Jessie when I'm six feet under, you know? And I feel like I did that, I made sure to openly and shamelessly hide my secrets in my songs. So, I hope people are waiting and happy to hear the truth.
On the grandson's next collaborations:
grandson: I just made my first album. Just me, no features, and I was really proud of it. I wanted to do it. But that doesn't reflect my attitude towards collaboration and community. So I make more music with my friends. Between now and the end of the year I literally didn't fuck anyone on my first album, I was like, It's my project to do. But now I probably have, I don't even know, we have between five and 13 songs by December, depending on everyone's schedule. But if I can argue with some people, I have everything from Rock & Roll Hall of Fame icons that I admire to emerging artists in hip-hop, pop, rock'n'roll. I have a whole bunch of collaborations that I finally have the opportunity to do again.
On the selection of superhero powers:
grandson: I would love to be able to have everyone touch me and then we could all teleport together. It was my dream, because if I teleport alone then it's a lonely existence. But whoever has a hand on me, we can all be where we need to be, I can use it for good. And that would only make my life easier. I would spend more time with my family. I could do a tour; in one night, I had hit five cities. That would be great.
Reyez: If we're the only superheroes and I have to do something that's not selfish, I would be taking time travel. I don't know the collateral damage, but you risk big, you win big. So you know I would be willing to risk some things just to help some things. And then also, I would be curious about the first day. So I would love to time travel to see what the first day was like? You know?
Or like before the first day, let me talk to God and say, "What's up? What are you thinking about ? What do you want to do ? You know, and if not, I would definitely teleport too and I thought about it too. And the reason I wanted to teleport was usually teleportation or theft for me. Flying because I was like, it would be so disgusting to just shoot and be able to hold people and everything. But if you teleport you can pretty much teleport up to a mile in the sky and then free fall and still have that feeling, then teleport again and you can fly perpetually forever. Just the demon of eternal heaven.
On the formation of the Ultimate Canadian Superhero Group:
Reyez: Champagne Papi, I'm tagged in Drizzy. And his superpower would be to be able to have songs that could cure hunger in the world. So if someone has played a song, it just means that the sound waves in the song are turning into food. You know, and it's like, yo, her songs are already making her bread. So it would be just like songs that make bread for the world.
grandson: I'm going to go with Nickelback and their super power will just be to absorb all the hate in the world, like, everybody hates our Nickelback. Personally I don't, I kind of fuck with Nickelback personally. I have no problem with them. Everyone seems to do it, it's like the one big unifier, people of different origins and ethnicities. Anyone can fucking agree, Nickelback. And so, their superpower is to absorb all the hatred in the world. Everyone has been directing their hatred against Chad since Nickelback. He can handle it. Clearly he is fine. And then we can, like, start working on the bigger problem: climate change, water, resource depletion. We have to be part of the same fucking team to experience the world's biggest challenges. Let's take all of our hate, all of our division, and throw it at early 2000s pop rock, Nickelback, Canadian superstars.