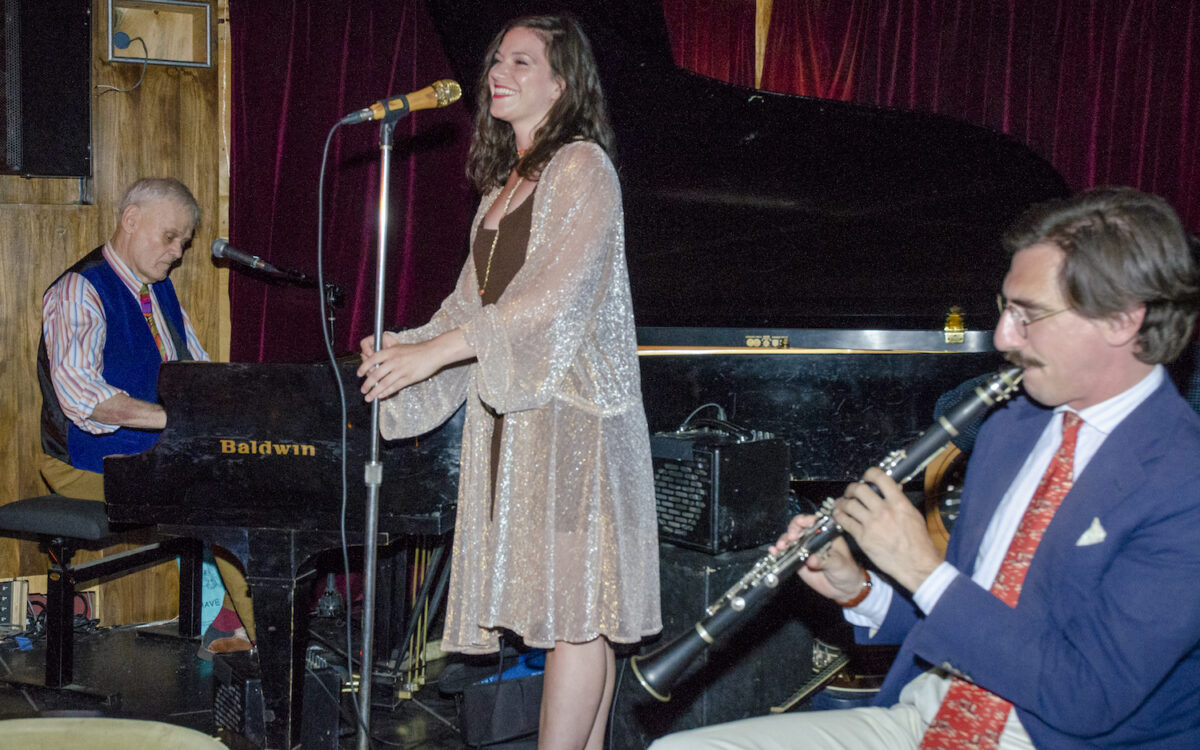 Gotham City Band keeps ragtime and jazz alive in the Big Apple
The scene in the jazz club was "The Great Gatsby" meets "Sultans of Swing".
It didn't take place in "London Town", but on a summer evening in New York's Greenwich Village. There was actually a "group of young boys" (well, there were 23 of them) who were there to see a "band of trumpets".
The venue was the historic Zinc Bar, which retains its original Art Deco design, and the cabaret-style space is aptly called "The Gatsby Room".
It wasn't the Sultans of Swing playing but Terry Waldo's Gotham City Band, and they played ragtime, classic jazz, standards and some original material for about 50 patrons.
New York City has a thriving vintage music scene, and Waldo and his band are at the center of it.
Beginnings
Waldo was born in Ohio in 1944 and was lucky enough to live across the street from a lawyer who owned a massive collection of jazz records. The lawyer let any interested neighbors, like Waldo, listen in if they wanted to.
At the end of the street was Anthony's, which Waldo described as "literally the biggest record store in the world". At the time, there were "listening booths", where a customer could play the record they were considering buying before making the purchase. Waldo spent a lot of time at these stalls and bought records with paper money.
Born in 1944, Waldo was there for the birth of rock and roll and, a few years later, the arrival of the Beatles. But it was ragtime that was the right choice.
"Ragtime was the first music I got really crazy about," Waldo said. "It just spoke to me."
He had his first piano lesson in third grade and in high school had his own Dixieland band, The Fungus Five Plus Two. Their slogan was: "Our music grows with you". The band performed "Tiger Rag" on national television on "Ted Mack & the Original Amateur Hour" in 1963.
Eubie Blake Piano Lessons
Eubie Blake was a famous ragtime composer and pianist and one of the genre's greatest.
In high school, Waldo heard a reissue of Blake's composition and recording, "The Charleston Rag", from 1921. In an effort to learn how to play it, he looked for the sheet music but it was not available.
Someone suggested writing to Blake in New York and asking him, which Waldo did. Blake responded by sending Waldo a stack of sheet music, which included the song.
Waldo and Blake met in 1967, when Waldo performed "The Charleston Rag" at the St. Louis Ragtime Festival. Blake also performed at the festival and told the audience, "This man, Terry Waldo, played my 'Charleston Rag', and if he had been a woman, I would have married him!"
Years later, Waldo visited Blake at his Brooklyn residence, tape recorder in hand, and received his first private piano lesson from a living jazz legend. Waldo used the recording for a radio series he had at the time.
It didn't stop there. Blake's music enjoyed a resurgence and Waldo invited him to Ohio, where he taught at the university level. Waldo was able to get television time for Blake there, who stayed at Waldo's house for a week.
The reverse played out when Waldo stayed in Brooklyn with Blake for a week at a time, with more piano lessons.
Waldo formed his Gotham City Band in the early 1980s when he moved to New York, and it has gone through various incarnations since then, with Waldo being the one constant.
The group members
Ricky Alexander plays clarinet and sometimes saxophone for the Gotham City Band.
He switched from sax to clarinet for two reasons. One was professional: "Everyone and their mothers already play saxophone, so the clarinet sets me apart, which is useful professionally," he told The Epoch Times.
The other reason was practical: "The main reason I like the clarinet is because of the schlep. I don't need to carry a heavy instrument with me all the time.
Although he owns an alto sax, which is one of the smallest saxophones, he finds it "surprisingly heavy" and says, "every ounce counts when you're in New York, you know what I mean?
The 33-year-old was introduced to jazz by an elementary school music teacher.
Alexander deliberately dresses in a classic style, and with his round metal-rimmed glasses, mustache and thick eyebrows, he resembles Groucho Marx, making his look even more authentic to the era.
Danny Tobias started playing trumpet in a big band at age 15, which played concerts three nights a week. But it was at the age of 25 that he discovered the jazz group The Hot Five of trumpeter Louis Armstrong.
It "blew me away", the 59-year-old said. "I just loved it."
"I'm very lucky that this group of young musicians who are interested in this stuff are now in New York and I have access to them," Waldo said.
Tatiana Eva-Marie is the singer of the group. She had heard of Waldo through his network of musicians in New York and eventually became a fan.
"I went to hear it religiously once a week – maybe two years – I was always there," she told American Essence.
A record producer known for throwing lavish parties hired Waldo to perform at one and Tatiana to sing there, thus beginning their professional relationship.
"He has a wonderful sense of humor and he likes to talk a lot of nonsense and I like to do that too, so we were just peas in a pod," Tatiana said.
Speaking of which, there are a lot of witty banter between Waldo and his band on stage, and Tobias swears nothing is scripted, although Tatiana said they have their "recurring jokes."
During the Zinc Bar performance, after performing a number, Waldo said, "I wrote that, by the way," to which one band member joked, "I didn't think you had it in you," which delighted the audience.
The music the band plays is between 70 and over 100 years old, but Tatiana thinks it's not just a relic from a bygone era. "I don't think they're trying to be a museum piece," she said. "This is not a historical re-enactment [of] every kind."
Kimberly Hawkey replaced Tatiana in the show at Zinc Bar. She had been singing with the band for a few months, but had met Waldo several years ago when they were performing at BlackTail Bar in Manhattan.
"I've been singing since I could make sound," Hawkey told The Epoch Times. "But singing jazz is another story. I started singing jazz professionally after college.
At 23, Hawkey was familiar with classical jazz but first sang it when she entered (and won) the American Traditions Vocal Competition in Savannah, Georgia.
She sang the Harry James-Helen Forrest swing number, "I Had the Craziest Dream," and has been singing songs from the genre for 11 years.
Not only is Hawkey a throwback to the era, she even looks one and has been told she looks like Lauren Bacall.
Regular concerts
Earlier this year the band recorded a CD with Tatiana on vocals and they hope to record a second before the end of the year. In addition to weekly shows at Zinc Bar, the band performs weekly at a second jazz club, Arthur's Tavern, also in Manhattan.
Both venues attract younger audiences, which Waldo is very happy to see.
The band regularly performs free sidewalk concerts for busy New Yorkers, through the 34th Street Partnership. While the music is free for pedestrians, the band is paid.
Since its inception, the band has recorded three released albums.
"We've been on a recording rush the last few months here, so we've recorded enough stuff for two more albums," Waldo said.
"These guys are the best in town," Hawkey said of the Gotham City Band. "I'm honored to sing with them."